Citiz : a car whenEVER you want
To access a Citiz car, all you need to do is subscribe. Using your Citiz badge, you can then book and drive any car you want, any time you want, for an hour or more.
Citiz carsharing rates for individuals
For each trip, pick the car that best suits your needs. Our usage rates depend on the car size as well as your subscription plan.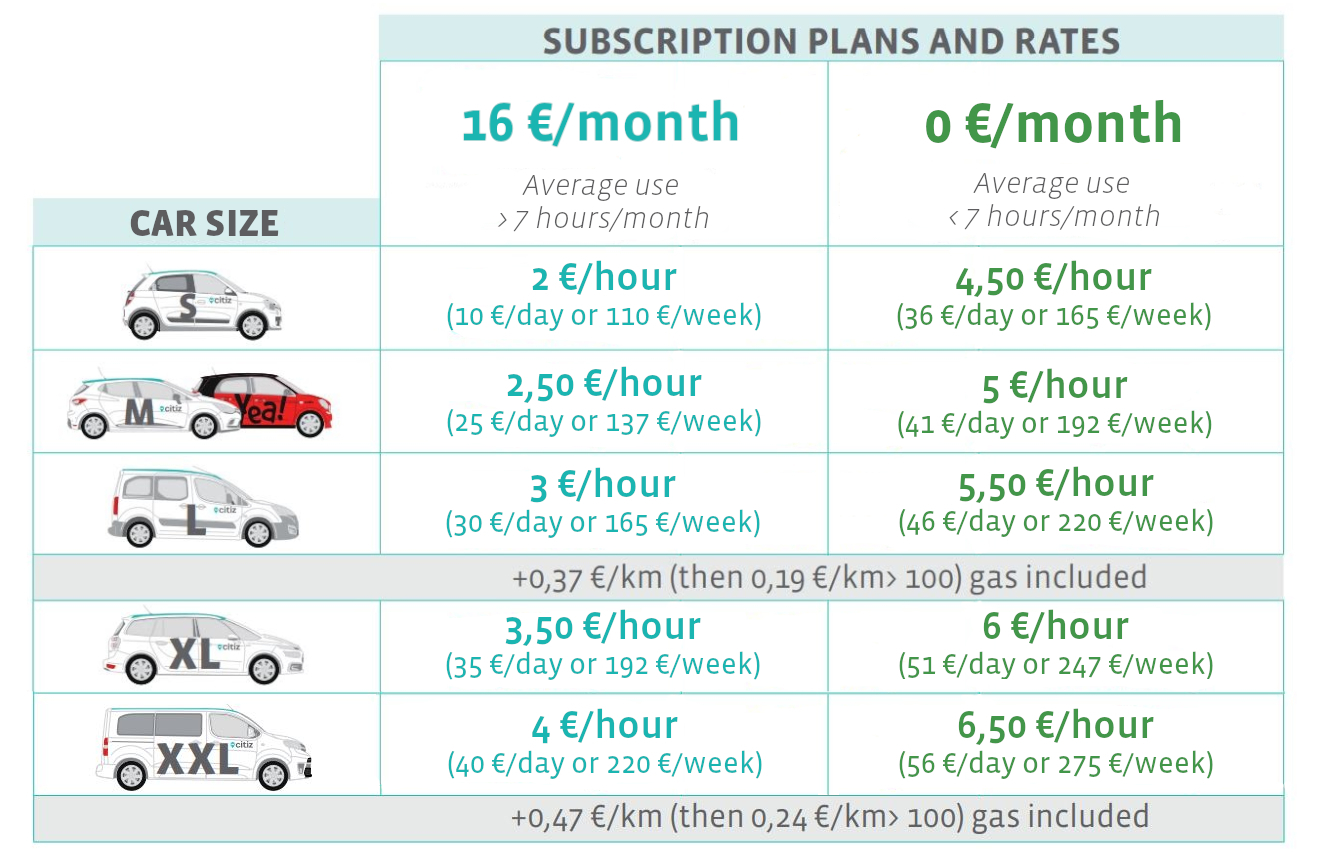 Citiz Grand Est prices, indicated in euros inclusive of VAT.
Citiz carsharing is also for professionnals
Citiz has designed an attractive pricing model for businesses:
A tailor-made subscription based on the size of your business (starting at 16€/month taxes included).
Rates starting at 2€/hour + 0.37 €/km, gas included.
Reduced rates if you book a car for the day, the week or for longer trips.
A Citiz badge for each member of your staff.
A monthly detailed invoice for each Citiz badge held by your business.
Insurance is included
Insurance is included in our rates, with an excess amount fixed at 600€ (S, M, L) or 900€ (XL, XXL) in the case of an at-fault accident, or in the case of an accident without an identified third party.
You can subscribe to an « Excess Reduction Option » in order to reduce your excess amount to 150€ (S, M, L) or 450€ (S, M, L). The cost of this option depends on your subscription plan :
16€/ month plan : 0,24 €/hour, 3 €/day and 16 €/week.
0€ / month plan : 0,48 €/hour, 6 €/day and 30 €/week.
Young drivers :
Young drivers are welcome to join the service, but cannot subscribe to the « Excess Reduction Option ». An insurance surcharge of 0,48€/hour, 6€/day and 30€/week is also applied for young drivers, throughout the first 2 years of their licence.
Good to know !
> Night-time hours are free from 11pm to 7am (distance rates still apply)
> 50% discount for unused hours in case of an early return
> Reduced weekly rates for long-term rentals

---
Our free-floating service: Yea!
Yea! cars are available in Strasbourg with the same subscription as Citiz cars but do not require a reservation. You can pick them up and drop them off anywhere in the Yea! zone, with no obligation of returning them to where you picked them up ! Their rate is of 1.5€ for 15min and is capped at the same rate as our "M" size cars, in line with your subscription plan (starting at 2.5€ per hour).
> yea.citiz.fr
---
Citiz Grand Est prices, indicated in euros inclusive of VAT.